Writers In Paradise
Freeloading at a conference, Florida food, eggs, book and movie recs, and links...
A big chunk of the past two weeks has been taken up for us by Writer's In Paradise, a writers' conference and workshop founded by Dennis Lehane and Sterling Watson, directed by Watson and Les Standiford, and held each January in St. Pete's, FL. Which is to say I've done almost no cooking except for experimenting with eggs after the New Year's Day fiasco I wrote about in the last newsletter (about which more later).
This year, the luminaries included regulars Laura Lipmann, Andre Dubus III, Michael Koryta, poets Major and Didi Jackson; and new guests, Anjanette Delgado, Madelaine Blais, and the headliners, novelists Luis Urrea and Elizabeth Strout. My beloved has been teaching there for more than 15 years. I was the happy freeloader, able to write in the morning, stroll on the beach in the afternoon, and enjoy beachy Florida dives and delectable fried food, while the luminaries did the heavy lifting of teaching.
Ann and I ate the above conch fritters, coconut shrimp, and stone crab claws with cold IPAs at the open-air bar of Billy's Stone Crab, a swampy inlet below us, leather-skinned barflies hunched over beer and rum drinks at the counter behind.
In the evenings, there were readings by the faculty, Strout opening, Urrea closing, with his new novel based on the World War II exploits of his mom, Good Night, Irene. The amazing thing about Luis's presentation is that it is not actually a reading, it's a recitation. I've seen poets recite poems from memory, but never a novelist reciting a 20-minute passage from a novel. "Hey, it's my thing," he told the audience. (I posted the opening minute of it to Instagram.)
This "thing" began years ago when he stood to give a reading and, due to eyesight issues, he couldn't see the words. He could do little more than attempt to recreate it from memory. He found he liked it, has since perfected it, and I'm sure he is the only novelist in the country who does so.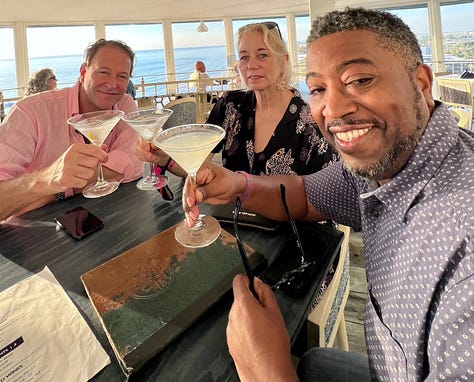 But by far the highlights of those eight days, though, was simply hanging out with all these wonderful writers. They are a … blast.
My Struggle (with eggs) …
As I wrote in the last newsletter, I hard cooked a dozen eggs to devil for a New Year's Day gathering, and not a single egg gave up its shell without a serious fight, leaving every one of them cratered and broken. A post on Facebook and IG led hundreds of people to comment.
This I know and knew: the best way to cook a large batch of eggs is to use a pressure cooker. The next best is to steam them. While Ann was off teaching, I'd make a couple of eggs for breakfast using a kind of combination method, having no pressure cooker or steamer in our kitchenette. I put them cold in a half-inch of cold water, put the covered pan over high heat for 9 minutes, turning the heat to low once it came to a boil. The result were eggs that peeled easily and had a lovely molten center, perfect to pair with some good cheddar.
A couple small points. The older the eggs, the easier they are to peel, as many noted. Also, with the boil-steam method, it helps to tilt the pan midway through so that all sides of the egg steam. And finally, careful not to cook off all the water or the egg white will actually brown.
As if I haven't already obsessed about eggs enough ...
Notable dishes of the week …
The faculty often ate out together. The above was a killer osso bucco at a place called The Dewey, at the southern end of St. Pete's Beach. An impressive looking dish I wish I'd ordered.
OK, now, the above lunch at the Hotel Don Cesar with Ann was perfectly fine. Double cheese burgers, fries and a salad. But the salad. It was billed as a pork belly salad with little gem lettuces. I was surprised and delighted so see that the pork belly was served cubed and fried, used in the salad like croutons. What a great idea, I thought. Then I thought, hey, wait a minute. That was my idea!
Way back in 2007, frustrated by the ubiquity of the chicken Caesar salad (to me an emblem of the mediocrity of American culinary invention in the name of dieting), I created the "Chicken Fried Pork Belly Caesar." I would serve the pork belly deep fried on a bed of romaine with a Caesar dressing, using deep-fried pork belly, I wrote, as the croutons. The dish actually made it onto the menu of at least one restaurant.
Could this on St. Pete's beach dish have come from my Caesar? I will choose to believe that it did!
What we're drinking…
Returned home at last, I can return to my standard evening libation, an icy, steely, Beefeater martini. Differing proportions abound. And at craft cocktail bars, vermouth is returning to the martini with a vengeance (as much as equal parts gin and vermouth, such as the Martini at Gage & Tollner). I abide by a tried and true 6 to 1 martini.
The Martini
3 ounces gin

1/2 ounce dry vermouth

Dash orange bitters

Lemon zest
Combine all liquids in a mixing glass, add ice and stir. (Never, never shake a martini.) Strain into an ice cold martini glass and garnish with the twist.
What we're reading…
I am on the final, arresting pages of Louise Kennedy's Trespasses. I had to know why Ann continued to gasp as she read to the end. It's an exquisite story of a young Belfast Catholic who embarks on an affair with a married Protestant barrister twice her age during The Troubles. I recommend, as Ann did earlier.
But I will hand it over to Ann, our constant reader, with both book and audible recommendations:
Most of my reading was the manuscripts of my 12 wonderful students at Writers in Paradise at Eckerd College in St. Petersburg, Florida. But I managed to also read Strange Flowers by Donal Ryan, whose novel, The Queen of Dirt Island, I recommended last newsletter. This one is another winner. In 1973, Paddy and Kit's twenty-four year old daughter disappears from their Irish village, only to return five years later. What and who she returns from London with will unfold in the novel, often to surprising places. But it's the opening third of the book that really wowed me. The gorgeous writing that shows us Paddy's heartbreak over his missing daughter and confusion when she returns is spectacular.

I did a lot of driving these past two weeks: back and forth from Newport to Providence for the MFA I direct there and then the almost five hour drive from Amelia Island to St. Pete. But I had great company! I listened to Matthew Perry read his memoir Friends, Lovers, and the Big Terrible Thing in his ravaged voice. I was never a fan of Friends, but Perry's story of addiction is one of the best I've read (well, heard...).

I also listened to Bono's memoir Surrender, and if you have the chance, get the audio of this book. It has music—U2's, opera, traditional Irish songs—and church bells and Bono's raspy voice telling the story of his life. Great company!

And, finally, recovering from my two intense work weeks, I dipped into Lucia Berlin's short story collection, A Manual for Cleaning Women, again. I was inspired by June Thomas on the Slate Working podcast interviewing Chip Livingston about his editing Love, Loosha, the collected letters of literary friends Lucia Berlin and Kenward Elmslie. I recommend Berlin's stories and a listen to that interview.
What we're Watching…
We had never heard of To Leslie until its star showed up in the best actress category when the Oscar nominees were announced. I made the mistake of watching it with Ann after dinner as, naturally, she fell asleep. It was 8:30. Not wanting to watch alone, I turned it off for later and read Tresspasses. Here's Ann again:
A funny thing happened when my beloved and I started to watch To Leslie after a yummy dinner of fried zucchini blossoms, raw artichoke salad, and a pizza margherita at the newly opened L'Antica Pizzeria da Michele (a West Village outpost of one of our favorite pizzerias in Naples): about 15 minutes in, I fell asleep. But when I woke at 12:30, I decided to watch the movie, while sipping the whiskey my sweetheart had thoughtfully left by my bedside. Unbeknownst to me, Michael stopped watching so we could finish it together. Therefore, as the only viewer, I'm here to report that this story of a West Texas single mom who won the lottery and spent all the money on her road to homelessness and alcoholism is a true gem. Andrea Riseborough's performance is stunning and the movie will break your heart and knit it back together.
On the Sunday of our return from St. Pete's, we did a double header, starting with Living, starring the always excellent Bill Nighy. He is in great form as a London bureaucrat, who is living the life of a zombie until he's given news of his terminal illness. This is an incredibly touching story about how the smallest achievements can have an extraordinary impact. It's narrative structure is essential to its effectiveness as story (can't spoil!). I LOVED this movie.
Less successful was Women Talking, about a community of Mennonite woman debating whether to leave their community, and the habitual sexual abuse they suffer, or fight the men. We can attest to the fact that it's true to its title—a lot of talking and very little action. The women are in a terrible predicament, based on a real group of women in Bolivia who were routinely drugged and raped. It's horrifying. But the movie itself is, well, not bad, but it's not Best Picture material, no matter how mad the critics are for it.
And most recently, Triangle of Sadness, a spoof of the ultra wealthy, who go on an ill-fated cruise. I thought it was a hoot (even though it is way, way too long and then just stops rather then ends—there is no ending). Ann says, "I didn't like it, left me cold. I really didn't like all that shit and puke. And it went on forever." To reiterate, I thought it was a hoot, and Woody Harrelson is hilarious as the drunken captain.
Links we've loved …
And finally …
David Crosby died last week at the age of 81. The iconic rock-and-roller could be a real asshole, which he cops to in the fascinating documentary from a few years ago, David Crosby: Remember My Name. He lived in our neighborhood, and just last year I saw him sitting on a bench in Abingdon Square, playing his guitar. The below is a segment on CSNY's legendary album Déjà Vu from the very popular CBS Sunday Morning.
Thanks for reading! Please leave a comment or click the heart button if you liked this newsletter (and feel free to tell why if you didn't!) Have a great couple weeks and see you here next time.
—Michael
Thanks for reading Ruhlman's Newsletter! Subscribe for free to receive new posts and support my work.