Ann's Thai Curry
The riches of MacDougal Street, books, movies, a new cocktail and links...
A few weeks ago, my wife Ann decided to do something extremely rare. As some know, I have a hard time following a recipe exactly. Ann is the opposite—she's a devout recipe follower. If I ask her "why" about anything she's cooking in the kitchen, the answer is invariably, "Because that's what the recipe says to do."
So when she said she would be making a Thai-style curry for dinner, I asked her which recipe would she be using?
She replied, "I'm not using one. I'm making my own."
I felt the ground of West 12th Street tremble. "What?" I asked. She directed a you-heard-me look my way.
And so she did. The result was delicious and so wonderfully simple I asked her if she would recreate it. Below, see her cooking it again and keeping track of the ingredients and amounts on her phone.
This is about as no-fuss as a curry can be. Vegetables and chicken sautéed and seasoned, then simmered in chicken broth and coconut milk. Taste for seasoning. Add a little cornstarch slurry if you want it thicker, or none if you like it brothy.
She didn't even bother with Thai chili paste, only the simplest ingredients available at any grocery store. Serve it over jasmine rice, garnish with cilantro and scallions, squeeze lime over it and add a little extra fish sauce for seasoning.
Thank you, Ann! Printable recipe is here.
Spontaneity in the city…
We were eager to see a play called Lucy at the Minetta Lane Theater and had Saturday matinee tickets last week. We arrived at the tiny Greenwich Village theater to find it empty but for a lone man in the ticket booth. The play had been canceled due to an illness. "You should have gotten an email," he told us.
Now, had the show not been canceled, we would have gotten out at around 4. We then would have likely strolled to a bar on Bleecker for a cocktail and discussed the play. Or we might simply have gone home and done the same thing. But now the entire day spread out before us. What … to … do?
The Minetta Lane Theater is across the street from the IFC Center, which, happily, was showing, among its many offerings, Oscar nominated shorts, which we'd been wanting to see. One of them, documentary shorts, would begin in 45 minutes.
I knew just what to do while we waited. After buying the tickets, I took Ann around the corner to a teeny bistro called Le Gigot on Cornelia St. We had not been to this lovely, little-known spot in years, when we had Peter's Point oysters, which were so good they inspired a magazine story.
"We're going to have a glass of flinty Chablis and some oysters while we wait for the show," I said, and Ann was game.
A few days earlier, Ann had announced out of the blue, "I want to go to a bar. A bar bar, and just sit at the bar." A few hours after that she shouted, "Fanelli's! We must go to Fanelli's." This was an excellent call. Fanelli Cafe is a great old, old bar in Soho. Even in my youth in the eighties, it was one of my favorite bars.
So, after the oysters and documentary shorts (see below), Fanelli's became our destination, the knot in our thread, so to speak. We decided to head there via MacDougal Street to explore Ann's theory that MacDougal has an uncommonly dense cluster of fabulous restaurants. Minetta Tavern, Dame, Dante, Babs, as well as tons of street-food places, the best falafel in the city, and one of the oldest Italian restaurants, Monte's Trattoria, which opened more than a century ago.
Crossing Houston into Soho, there's Shuka, 12 Chairs, Raku, and soon, an import from Rome, Rascioli. We marveled at the riches of MacDougal. And then, lo!, we chanced upon Emmett's. We'd forgotten about Emmett's, which serves Chicago cuisine, including what's reputed to be some of the best pizza around (thin crust and deep dish). And here, on a Saturday afternoon in Soho, which is always mobbed on Saturdays … the place was all but empty. One man at the bar, a few tables seated in the tiny room.
Ann said, "This is my bar! This is the bar I've been wanting!" And so we sat at the old, lacquered wood bar, ordered a bottle of nebbiolo and had a fantastic pepperoni pie with the crispiest crust I've had in ages. The bartender set a three-minute sand timer beside the pizza, "to let the cheese settle," he said. He would not cut the pizza until the sand ran out. "Torture," Ann exclaimed. For a starter we split a Vienna Beef Chicago-style hot dog because there is not a better hotdog in America (see more about this in the links).
But we still wanted to see Fanelli's. Good thing Emmett's had bar seats because Fanelli's was so crowded we didn't even go in. Mobbed. Changed. Juice bar outside, what?
Instead I asked Ann if we could look for a building that I'd been meaning to see: the Haughtwout Building, opened on the NE corner of Broome and Broadway in 1857 with the world's very first elevator, designed by Elisha Otis. (This is what it looked like at the time, when it was a high-end department store frequented by Mary Todd Lincoln.) The invention of Mr Otis's elevator would allow the city to grow vertically.
But looking up at that corner is to be reminded of the extraordinary architecture in Soho, from Renaissance Revival to Art Nouveax, directly across the street.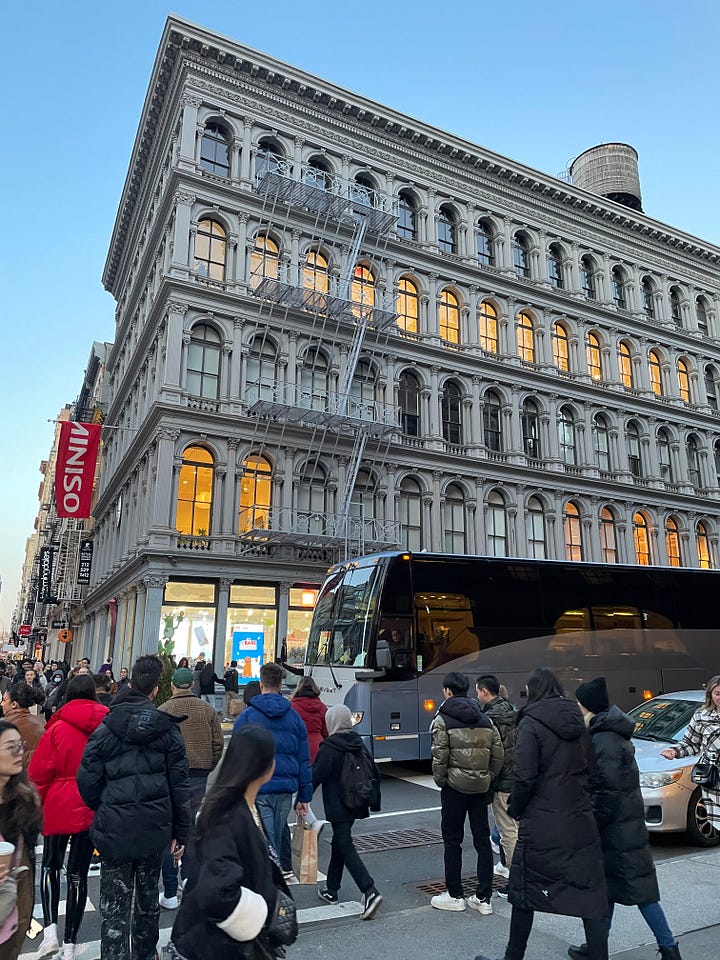 Ah, to be tourists in our own city on a crisp Saturday afternoon was such a splendid surprise. We ended it with a whisky at one of Ann's old haunts, the Ear Inn (est. 1817), then, as dusk became dark, we walked home to find that the remaining documentary shorts were streaming.
What a gift the canceled show had been.
What we're drinking …
For Valentine's day, well aware that this is perhaps the least fun, most difficult night of the year to dine out, we strategized. We would arrive at Barbuto (the restaurant where we had our wedding lunch) when it opens, and grab another seat at the bar.
I asked for one of the bar's creations, the mezcal-based Naked and Fabulous (named after the cocktail the Naked and Famous, a Last Word variant—a four-ingredient-in-equal-parts cocktail). It was splendid and worth making at home if you have green Chartreuse on hand and a bitter red aperitif (Barbuto uses Cappelletti but Campari will work as well.)
Barbuto's Naked and Fabulous
3/4 ounce mezcal
3/4 ounce green Chartreuse
3/4 ounce Cappelletti
3/4 ounce lime juice
Combine all ingredients in a shaker, add ice, shake to chill, and strain into a frosty coupe.
What we've been reading …
I picked up Ann's copy of Lucia Berlin's story collection, A Manual For Cleaning Women, and it's excellent. Berlin, who died before she became famous, is easily in the company of writers such as Grace Paley and Alice Munro. (Read this lovely New Yorker ode to Berlin.) I'm also reading a YA novel from our friend, Penguin Workshop publisher Francesco Sedita, a love/time-travel story that begins with the death-by-lightning of one of the boys called Another Dimension of Us.
Of course, Constant Reader has plenty more recommendations this week. Ann, take it away.
FORBIDDEN NOTEBOOK was published 71 years ago by the Italian-Cuban feminist writer Alba De Cespedes. This exquisite new translation reveals the fragility of domestic life as wife and mother Valeria buys a secret notebook to write down her thoughts in post-WWII Rome.

I finally read OCEAN STATE by Stewart O'Nan, and it is terrific. Set in my very own Ocean State, Rhode Island, it's a virtuoso of point of view as O'Nan tells the story of a murdered high school girl through the eyes of the victim, the murderer, her mother, and her sister.

Sterling Watson's new noir novel, NIGHT LETTER, is atmospheric and spellbinding. It follows 18-year-old Travis from his release from reform school in Nebraska back to Panama City and Delia, seeking answers and redemption.
What we're watching and listening to…
Ann gets to go first:
I happily stumbled upon Thirty Minute Dinners on Julia Child's The French Chef on YouTube and can't get enough. I recommend starting with the ham dinner—using prepackaged lunch meat and frozen peas. The show begins with Paul calling Julia and asking her to make dinner for four in half an hour.

Even if I didn't have a daughter at Sarah Lawrence, the New York magazine piece about Larry Ross would have driven me to watch this terrific, terrifying documentary, Stolen Youth: Inside the Cult At Sarah Lawrence.

I am so glad I had dinner with my pals Gilbert King and Katie Divine and learned about Gilbert's podcast Bone Valley. It's positively addictive listening to him investigate a possible wrongful murder conviction in central Florida. Gilbert won the Pulitzer in nonfiction for Devil in the Grove, so be sure to read that if you haven't.
Me, I had to drive to and from Providence for some gum surgery this week (not fun!), but I binged Bone Valley over the course of the 7 hours of driving and have to add that it's an astonishing true crime story and an extraordinary work of reporting. I'm truly hoping it will bring some justice to the corrupt Polk County, FL, "justice" system. Absolutely appalling what the past and present state prosecutors and sheriffs have done, the lives destroyed by these supposed law enforcement officials. A must listen. Huge congrats to Gilbert and his intrepid assistant, Kelsey Decker.
I also listened to a delightful bartender memoir called Unvarnished: A Gimlet-Eyed Look at Life Behind the Bar, by Eric Alperin, owner of the Los Angeles craft cocktail bar, The Varnish. It's definitely unvarnished!
And finally, on our second attempt, the play Lucy, by Erica Schmidt, about a stressed working mother who hires a career nanny and their fractious relationship. Beautifully acted and written.
As for movies …
The Oscar nominated short documentaries were all great to watch but two of them were extraordinary. In How Do You Measure a Year, filmmaker Jay Rosenblatt stitches together 15 birthday interviews with his daughter, beginning when she was two. We literally watch her grow up. This is just an ordinary, very smart girl; there's no narrative other than her growth; and yet the movie, which shows the transformation from toddler, to inward-looking teen, to young woman had us both in tears. As far as I can tell, it's not streaming so see it in theaters for now.
The other documentary, which is streaming on Netflix, is The Martha Mitchell Effect, about John Mitchell's outspoken, hilarious wife during the perilous Watergate years. Just watch it—this woman and the powerful men around her are riveting.
Two movies we were eager to see because critics were falling all over themselves to praise them were Return To Seoul, about an adopted woman raised in France who returns to Korea and eventually meets her birth parents, and St. Omer, about an actual trial of a Senegalese woman who leaves her infant daughter on a beach to drown in the rising tide. Neither were compelling and neither of us recommend.
Happily, we soon after watched Causeway with Jennifer Lawrence, who plays an Afghan vet struggling to regain her life after a traumatic brain injury sends her home to NOLA, and a mechanic, played Brian Tyree Henry in a deserved Oscar nominated performance, who helps her with her car. Their friendship is the story here, and while the water metaphors are a little heavy handed, the acting and the writing are superb and moving. We almost didn't watch because of the very mixed Times review. Causeway is excellent. (Streaming on Apple TV.)
We finally got around to watching Force Majeure (2014; Hulu and Amazon Prime), by Swedish director Ruben Östlund (he directed this year's Triangle of Sadness, which I wrote about in the last letter). It has a great premise. A family of four is on a grand ski vacation, having lunch on the deck of a mountain restaurant, when an avalance threatens to bury all the people at the restaurant. The husband bolts; the wife, trying to bundle the kids and get them out of harms way, does not succeed. But it was a false alarm. When the cloud of snow dust settles and the husband returns, it's clear to all what has happened though no one says anything … at first. The tension never lets up. (An American remake of the film called Downhill does not appear to have the same impact.)
Having read Claire Keegan's masterful novella, Foster—the story of a young girl from a poor Irish family who is sent to live with her mom's cousin and the cousin's husband, a farmer—we couldn't wait to see the movie based on it, called The Quiet Girl. We knew it would be good because our dear friend Marianne Leone told us we had to see it. But was better even than Marianne suggested. The story about love and loss and parenthood is subdued but luminous. I'll be happy if it wins the Oscar for best international film.
Links we've loved …
And finally …
Ann sent me this saying, "This actually made me want to eat at Panda Express." How do they make their Chinese-American cuisine? Fascinating. And their attention to quality is encouraging.
Thanks for reading! Feel free to leave a comment or hit the heart button if you liked. See you here in a couple weeks!
—Michael
Thanks for reading Ruhlman's Newsletter! Subscribe for free to receive new posts and support my work.